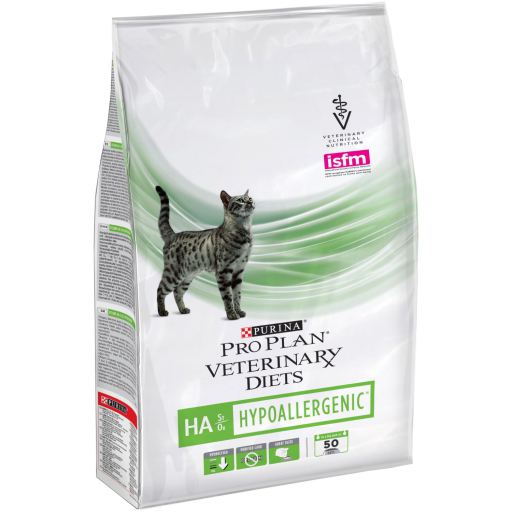 Description
HA Hypoallergenic Feline Pro Plan Veterinary Diets
PURINA® PRO PLAN®VETERINARY DIETS Feline HA ST/OX Hypoallergenic is a true hypoallergenic diet formulated with protein that has been broken down (hydrolysed) into very tiny components that are too small to cause an allergic reaction , and a purified carbohydrate source.
Hydrolysed diets are recognised as the best type of food to use during an 'elimination diet trial' when trying to diagnose (or rule out) food allergy. During such a trial it is important that your cat is fed no other food or treats. PURINA® PRO PLAN® VETERINARY DIETS Feline HA ST/OX Hypoallergenic is also useful for cats with severe bowel conditions, such as Inflammatory Bowel Disease, as it is highly digestible.

Benefits:

- Hydrolysed proteins broken down into tiny components too small to cause any allergic reaction
- Purified carbohydrates to reduce the risk of an allergic reaction occurring
- High palatability achieved through high quality ingredients and a specially added hydrolysed feline palatability booster
- With ST/OX for urinary security: formulated to reduce the risk of urinary conditions
Ingredients
HA Hypoallergenic Feline Pro Plan Veterinary Diets
Rice starch, hydrolysed soya protein, soyabean oil, minerals, hydrolysed digest1, animal fat, fish oil.
Features
HA Hypoallergenic Feline Pro Plan Veterinary Diets
Reference

7613035154506

Weight

3,5 KG, 1,3 KG

Brand

Pro Plan Veterinary Diets

Units

1
Customer Reviews
HA Hypoallergenic Feline Pro Plan Veterinary Diets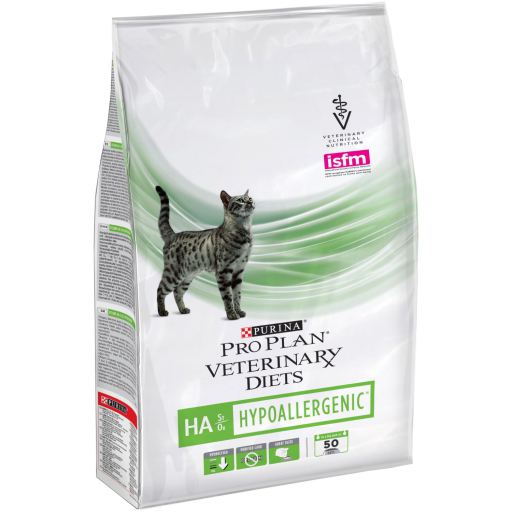 Es la primera vez que compr este pienso. Es uno de los recomendados por mi veterinario para las alergias de mi gato, al que parece no gustarle demasiado. El tamao del pienso, me parece un poco pequeo. Desde mi punto de vista, bebera de ser un poco ms grande